'Twas a busy week for product launches! Nielsen launched Twitter metrics, Samsung announced the Galaxy Round, and new iPads are coming our way. And while its gamers were virtually smashing car windows, Grand Theft Auto 5 smashed seven world records.
Nielsen Launches Twitter Metrics for TV Shows
Nielsen, the de-facto standard of TV measurement, just launched Nielsen Twitter TV Ratings, the first-ever product that measures the activity and reach of television-related conversation on Twitter.
Social TV has been growing by leaps and bounds, with Twitter being the most popular second-screen tool. Marketers and broadcasters have been experimenting with how to best engage viewers and now can measure the effectiveness of their efforts. It's expected that TV networks will promote their Twitter TV ratings like they do their broadcast ratings, but the jury is still out on the impact this will have on cross-channel marketing programs and advertising rates.
Additionally, this legitimizes Twitter's impact on TV viewership ahead of its impending IPO. Read more about this at the NY Times.
Samsung Announces the Galaxy Round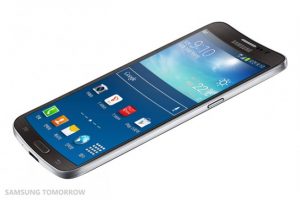 The next big thing is here, and it's round-ish. Samsung announces the launch of the Galaxy Round, a new smartphone that has a 5.7-inch curved display.
Samsung claims the grip of the phone is more comfortable and allows for the Roll Effect, which is shown in the video of this Mashable article. Pundits wonder if there's any value to this and if Samsung is just innovating for innovation's sake.
In other news, Apple is set to announce the launch of the iPhone 6R(ound). Just kidding.
Grand Theft Auto 5 Breaks Seven Guinness World Records
Rockstar Games' GTA 5 shattered six sales records and one audience record, as posted on the Guinness World Records Blog.
The game garnered over $815 million in sales on its first day and reached $1 billion in just three days, besting records previously held by the Call of Duty video game series and blockbuster movies including The Avengers and Avatar.
Though momentum has moved to social and mobile games, the GTA 5 records show that platform game franchises can still achieve massive success. And now with video games being completely mainstream, it's likely these records will be broken again and again in the future.
New iPad Coming Soon
Apple is holding an invite-only gathering on October 22 and AllThingsD says the focal point of the event will be updates to the iPad. The iPad is rumored to feature a thinner, lighter design, and the iPad mini is supposed to be upgraded to the retina display. Neither of them will have a curved screen.
Have you read other interesting mobile and technology stories this week that are worth mentioning? Feel free to add them in the comments.
Like this post? Then follow us on Twitter – @thorntech and @mikewchan – for future updates.
Image courtesy of Samsung Tomorrow