Happy holidays! We hope everyone had a great holiday week, though not everyone mentioned in this Week in Technology did. In this edition, we'll recap Justine Sacco's boneheaded tweet, Apple's deal with China Mobile, Jack Dorsey joining Disney's board of directors, and HP's potential re-entry into the smartphone game.
Apple signs iPhone deal with China Mobile
Apple has struck a deal to sell iPhones through China Mobile, the world's largest mobile network operator. China Mobile will sell the iPhone 5S and 5C in their retail stores starting January 17.
Samsung and Android has been eating Apple's lunch in China, with the iPhone accounting for only six percent of mobile phone sales in the third quarter of 2013. And while this deal will no doubt bump up sales for the Cupertino company, the potential ceiling may be limited by the high cost of the device.
Jack Dorsey join Disney's board
Does Mickey Mouse tweet? Now that Jack Dorsey, co-founder of Twitter and Square, has joined Disney's board of directors, the mouse just might use 140 characters more often.
Dorsey is a perfect fit for Disney's board as the company increasingly incorporates technology into engaging its customers and fans. And joining Disney's board is the next step in Dorsey's goal of emulating Steve Jobs.
The tweet heard round the world
Justine Sacco, you just ruined Christmas for you and your family by tweeting something stupid.
If you haven't heard, IAC's Director of Corporate Communications tweeted this little gem out to the world last Friday: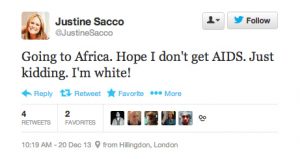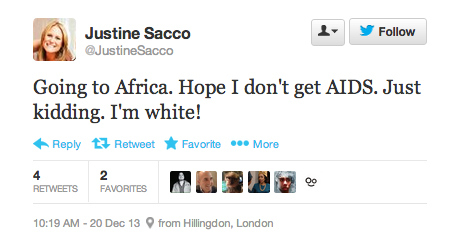 Then an internet sh*itstorm ensued, which Buzzfeed recaps nicely. Sacco was fired by IAC and issued an apology after she deleted her Twitter, Facebook, and Instagram accounts.
This isn't the first or last time someone will lose their job over a stupid tweet. Twitter is amazing in many respects, but only if it's used with common sense.
HP plans to re-enter the smartphone game
HP wants to get back into the smartphone game by focusing on building 6- and 7-inch "phablets" aimed at emerging markets.
The company has been indecisive with their mobile strategy over the last few year. HP acquired Palm in 2010 to lead its smartphone strategy but shut down that business a year later. CEO Meg Whitman has been hinting for over a year that they were working on building new smartphones, but hasn't provided a timeline on when these phones would be launched.
With all of the movement in the mobile space, HP had better make a move soon.
Have you read other interesting mobile and technology stories this week that are worth mentioning? Feel free to add them in the comments.
And have a Happy New Year!
Like this post? Then follow us on Twitter – @thorntech and @mikewchan – for future updates.
Image courtesy of Buzzfeed.