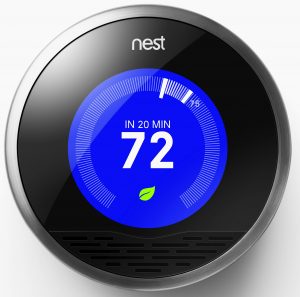 Welcome to "The Week in Technology", where we recap some of the most interesting technology and mobile stories from the past week.
This week, Google buys Nest to learn about what you do at home, the FCC's net neutrality rules were struck down, as was Yahoo's COO. Let's go!
Google buys Nest
Google purchased Nest Labs, the two-year-old maker of smart thermostats and smoke detectors, for a whopping $3.2 billion on Monday. Google will now know everything about what you do on your computer, phone, car and home.
The Goog continues its foray into hardware, augmenting its purchases of Motorola Mobility in 2012 and a slew of robotics companies in 2013.
While this deal certainly gives validation to the growing "Internet of Things" trend, it's not necessarily good news for smaller IoT startups focused on home automation. Now that Google is clearly in the game, it'll be much tougher for the little guys to compete.
Net Neutrality Ruling
In a landmark decision that may have widespread impact on how the Internet will operate, an appeals court in Washington, DC, decided that the FCC's net neutrality rules were invalid.
Per Wikipedia, the core of net neutrality is that Internet service providers (ISPs) should treat all data on the Internet equally and not discriminate or charge differently based on the user, content being delivered, or any other attribute. With the FCC's rules being struck down, it may now be possible for ISPs like Time Warner and Verizon to strike deals with large content providers like Netflix and ESPN to ensure their content is delivered at the highest speeds. Better yet, these ISPs may even be able to slow the speeds of competing sites for their benefit.
ISPs and large content and technology companies are the big winners, as their control over the Internet increases. The big losers are the consumers as well as startups, as uber venture capitalist Fred Wilson states here.
Yahoo COO Fired
Yahoo CEO Marissa Mayer dropped the hammer and fired her #2, COO Henrique De Castro, whom she brought to Yahoo from Google.
While all of Mayer's improvements to Yahoo's properties have led to traffic increases, ad sales continue to plummet and much of that seems to be attributed to De Castro. Additionally, the now ex-COO apparently feuded with Mayer and many of Yahoo's top executives.
Mayer has done good things at Yahoo but bringing De Castro on board was an obvious misstep. We'll see if this firing and the distribution of De Castro's responsibility fixes the company's ad sales issues.
Have you read other interesting mobile and technology stories this week that are worth mentioning? Feel free to add them in the comments.
Like this post? Then follow us on Twitter – @thorntech and @mikewchan – for future updates.
Image courtesy of Nest