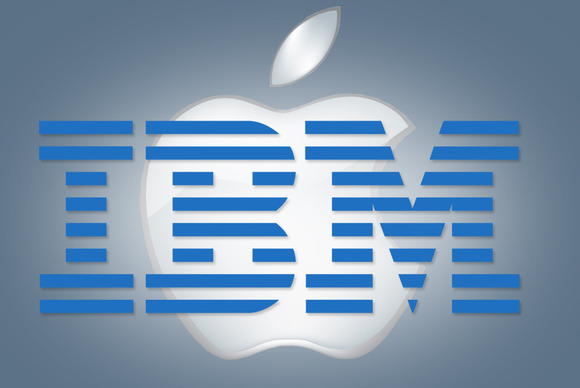 Welcome to this week's edition of "The Week in Tech," where we recap some of the most interesting technology and mobile stories from the past week.
This week we highlight the landmark deal between IBM and Apple, layoffs at Microsoft, Amazon hiring the inventor of Google Glass, and Nielsen and Facebook's partnership.
IBM and Apple partner to push iOS in the enterprise
Apple and IBM announced a broad collaboration to sell iOS devices into enterprises and develop more than 100 industry-specific applications together.
It was only a couple of years ago when IBM banned the use of Siri or non-enterprise software by its employees and gave everyone Blackberries, so this is quite the 180 degree change.
While Apple isn't an enterprise company at its core, the Bring Your Own Device (BYOD) trend, where employees use their personal smartphones and gadgets for business purposes, has given the Cupertino company a de facto entrance into the corporate world, many times to the dismay of IT departments. This deal with IBM should help solve that problem. And Apple, who has shied away from devoting resources to enterprises, now has a virtual sales force of 100,000 IBMers.
IBM will work with Apple to develop enterprise applications that will run on on IBM's cloud infrastructure. Business data will co-exist with personal data, like photos and personal email, on Apple's iCloud and other cloud services.
Microsoft announces massive layoffs
We knew there were going to be big changes coming at Microsoft. We just didn't know how big those changes would be.
CEO Satya Nadella announced that the company will lay off 18,000 employees, about 14% of total staff, over the next year. Most of the layoffs will come from the Nokia mobile division acquisition.
While the layoff number is huge, no one was surprised of the move, as Microsoft promised over $600 million in annual cost savings after the Nokia acquisition. Nadella also dropped hints about the company's smartphone strategy, stating that he plans to shift select Nokia X products to become Lumia products running Windows, which means there will be no Nokia phones running Android.
Amazon hires Google Glass inventor
Babak Parviz, the engineer who led the development of Google Glass, has been hired by Amazon. Parviz was with Google since 2010 and also ran the team that developed the glucose-monitoring contact lens.
With the launch of its own smartphone and streaming set-top box, Amazon has been making waves in the hardware field, and this hire looks to continue that trend. It's not exactly clear with what Parviz will be tasked, but he will certainly play a big role in creating Amazon's version of the future of mobile.
Nielsen and Facebook team to track shows watched on mobile
TV viewing is shifting away from actual TVs to mobile devices and Nielsen wants to capture all of that data. Thus the company is turning to Facebook to help track the shows its users watch on mobile devices.
Nielsen's traditional TV rating system gathers viewing data from a panel of 25,000 participating households. But many advertisers complained that these ratings don't reflect the true viewership of shows because so many viewers are now consuming content on mobile phones and tablets. Nielsen hopes to solve that problem with the Facebook partnership.
The tracking program will start with this fall TV season and Facebook will track the shows its users watch on their phones and tablets and send information about their age and gender to Nielsen.
What do you think of these stories? Have you read other interesting mobile and technology stories this week that are worth mentioning? Feel free to add your thoughts to the comments.