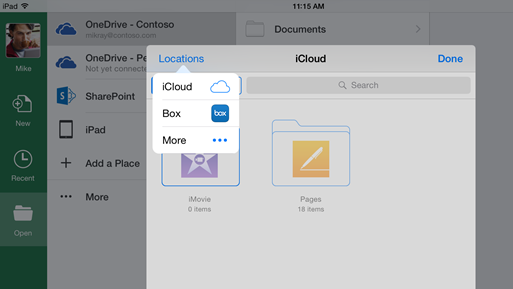 Welcome to this week's edition of "The Week in Tech," where we recap some of the most interesting technology and mobile stories from the past week.
This week we highlight Microsoft Office's integration with cloud storage rivals, Apple's plans for an electric car, Snapchat's huge valuation, and Yahoo's new mobile developer suite.
Microsoft Office now supports all cloud storage services
In a big move that affirms Microsoft's new strategy of being where its users are, the company is integrating its Office suite with competing cloud storage services like iCloud, Google Drive, Box, and more.
The strategy kicked off last November with its partnership with Dropbox. Now office users will be able to seamlessly open, view, edit, and save documents not only with its own OneDrive storage, but with all rival cloud storage providers.
Some may think that Microsoft is surrendering to its cloud storage rivals, but that's not the case. The company just realizes that in order to hold on to its lead in the productivity tools space, they need to make sure that Office plays nice with the other types of software users employ, essentially going to where their users are instead of forcing them to come to Microsoft.
Apple looks to build an electric car by 2020
It's probably Silicon Valley's worst kept secret – Apple has been covertly working on an electric car, with a target production date sometime in 2020.
Apple reportedly has a team of hundreds and hired some big guns to work on this project. Past executives of Ford, Mercedes-Benz, Tesla, and many other automotive systems manufacturers were recruited to develop the electric car from the ground up.
With its foray into electric cars, Apple will compete against Tesla and GM, who plan to launch in 2017 sub-$40,000 electric vehicles that can travel over 200 miles with one charge.
Snapchat worth $19 billion?
It looks like disappearing messages are pretty valuable.
Snapchat is in talks to raise $500 million at a valuation of $19 billion. This would make the ephemeral messaging app the third most valuable startup, behind only Chinese smartphone maker Xiaomi and ride-sharing company Uber.
The app's growth and engagement has been astounding; it is approaching 200 million monthly active users and has tens of millions of daily active users. Snapchat has been working on monetizing this user base by becoming a platform where users can send money to friends and view content from major publishers.
Some may say a $19 billion valuation is crazy, but with the trifecta of growth, engagement, and monetization potential, Snapchat may just be worth that much.
Yahoo launches mobile development suite
Yahoo is getting really serious about mobile.
The company just announced its mobile developer suite that will help app developers publish, measure, and monetize their apps. The platform combines Yahoo's app publishing, search, and Flurry's analytics tools.
The 200,000 developers on recently-acquired Flurry's platform have built 630,000 apps deployed on over 1.6 billion devices. Yahoo has over 575 million monthly visitors to its mobile properties. So merging these resources under one app development offering can have huge potential.
Yahoo's mobile development suite will pit the company against the likes of Facebook and Twitter, who also provide analytics, ad serving, and monetization tools.
What do you think of these stories? Have you read other interesting mobile and technology stories this week that are worth mentioning? Feel free to add your thoughts to the comments.
Like this post? Then follow us on Twitter – @thorntech and @mikewchan – for future updates.
Photo courtesy of Microsoft.