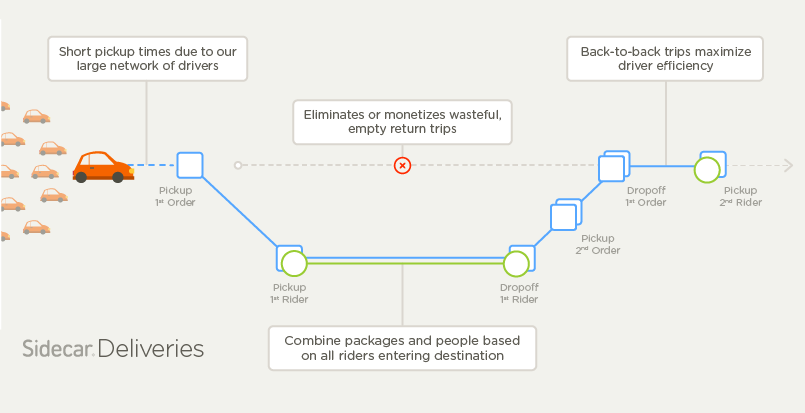 Welcome to this week's edition of "The Week in Tech," where we recap some of the most interesting technology and mobile stories from the past week.
This week we highlight Sidecar's move into package delivery, Alibaba's big investment in Chinese smartphone maker Meizu, and Expedia's purchase of Orbitz.
Sidecar rolls out package delivery service
Over the last six months, ride-sharing service Sidecar has been testing same-day package delivery in San Francisco. The company is now officially rolling out the service, aptly named "Sidecar Deliveries," nationwide.
Sidecar Deliveries picks up and drops off riders and packages along similar routes to eliminate wasteful empty return trips for drivers. This efficiency has allowed Sidecar to cut delivery time by half and save participating companies up to 80% on delivery costs compared to traditional shippers. Additionally, Sidecar claims that their drivers earned 75% more when delivering both riders and packages.
The delivery space is hot, and Sidecar has plenty of competition. Uber has tested multiple delivery services, including UberRUSH in New York, UberEssentials in DC (which it shut down), and UberFresh in LA. EBay operates eBay Now, Google and Amazon have their own delivery services, and a host of startups such as Instacart, Deliv, and Postmates are making noise as well.
Alibaba invests $590 million in Chinese smartphone company
Alibaba made a big move this week by investing $590 million in Chinese smartphone manufacturer Meizu and re-igniting its mobile agenda.
Meizu only has about 1% market share of the huge and extremely competitive Chinese smartphone market. So while this deal isn't one of epic proportions, it will certainly help both companies expand their offerings. Meizu gains a huge cash infusion to catch up to larger players like Xiaomi and Lenovo, and the company can also leverage the distribution power of Alibaba's e-commerce websites. Alibaba now has an avenue to expand its YunOS mobile operating system, which they will install on all Meizu handsets.
Expedia agrees to buy Orbitz for $1.6 billion
And then there were two. The online travel booking world continues to consolidate, with Expedia purchasing Orbitz for a cool $1.6 billion.
This purchase comes on the heels of Expedia's scooping up of Travelocity a couple of weeks ago. Expedia will acquire all of Orbitz's brands, which include the consumer-facing Orbitz, ebookers, HotelClub, and CheapTickets brands, as well as B2B entities Orbitz Partner Network and Orbitz for Business. These brands will join the Expedia's vast travel portfolio that includes Hotels.com, HotWire, and Trivago. 
Priceline, who owns travel search aggregator Kayak and many other sites, is the 800-pound gorilla in the online travel world. Expedia's recent shopping spree is a sign of the impact of Priceline's sheer power and emerging competitive threats from startups like Hipmunk and even AirBNB.
What do you think of these stories? Have you read other interesting mobile and technology stories this week that are worth mentioning? Feel free to add your thoughts to the comments.
Like this post? Then follow us on Twitter – @thorntech and @mikewchan – for future updates.
Photo courtesy of Sidecar.