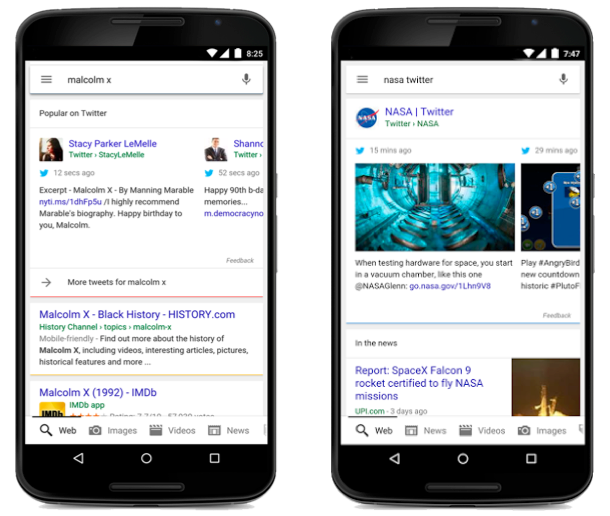 Welcome to this week's edition of "The Week in Tech," where we recap some of the most interesting technology and mobile stories from the past week.
This week we cover the addition of tweets to Google search results, Spotify's new features, and President Obama's new Twitter account.
Google adds tweets to mobile search results
Google search just became more real-time, thanks to Twitter.
On Tuesday, Google started including tweets in its mobile search results to better provide users with up-to-date search information. Back in February, Twitter and Google inked a deal where Google had access to the Twitter firehose, and this is just the start of that relationship.
Google obviously benefits from this integration, as a lot of breaking news can be found on Twitter, and this is important information for searchers to see. Twitter hopes that they'll be able to grow their user base by having Google searchers see more tweets in search results, which will in turn drive them to the platform.
Google has implemented this in Engligh on the mobile web and in their iOS and Android search apps, and are working on building this out for other languages and desktop computers.
Spotify launches video and other new features
Spotify is no longer just a music streaming service.
At a company event in New York City, Spotify announced new features for its premium mobile subscribers, such as video, podcasts, new discovery tools and customized experiences for runners, in order to become a one-stop shop for all kinds of entertainment, not just music.
The company has partnered with ESPN, Comedy Central, Vice Media and many others to provide video clips and full episodes. Podcasts and radio shows will include content from BBC, CBS Radio, RadioLab and more, as well as original Spotify content like artists' playlists and celebrity interviews.
This is a big move by Spotify to separate from the music-streaming pack. It'll be necessary, as Apple's impending entry into streaming music after it purchased Beats Music last year is sure to make some noise.
Obama joins Twitter and is welcomed by racist tweets
After six years in office, President Obama finally has his own Twitter account, @POTUS, to directly communicate with the American people. Obama has kind of been tweeting through the @BarackObama handle, but that account has been primarily managed by staffers.
Hello, Twitter! It's Barack. Really! Six years in, they're finally giving me my own account.

— President Obama (@POTUS) May 18, 2015
Twitter immediately reared its ugly head, as users started making racist comments and death threats. The White House expected this and Secret Service will monitor potentially harmful activity, as they've done before.
What do you think of these stories? Have you read other interesting mobile and technology stories this week that are worth mentioning? Feel free to add your thoughts to the comments.
Like this post? Please share it below! Then follow us on Twitter – @thorntech and @mikewchan – for future updates.
Image courtesy of Google.