Welcome to "The Week in Tech," where we recap some of the most interesting technology and mobile stories from the past week.
This week we highlight the rise of ad blockers on iOS, the launch of Facebook's 360-degree video, the App Store hack, and Blackberry's Android phone.
Ad blockers shoot to the top of App Store rankings
When Apple announced that apps that block content on the Safari mobile browser would be allowed in iOS9, we knew that a cottage industry would be born.
Now that iOS9 is available, we were all proven right. Ad blocking apps like Crystal, Purify, and 1Blocker have quickly elevated to the top of App Store rankings, with the 10 most popular apps garnering 600,000 downloads in the first week alone.
While the benefits of ad blocking are clear for the consumer – fewer ads mean less intrusion of your content viewing experience – this could become a major threat to online publishers and other companies that rely on online advertising revenue to keep their businesses alive. Even e-commerce companies have reported issues with their sites loading properly.
Most of the ad blocking apps simply block all ad content from being shown, which is a bit crude, as some ads and promotions are actually valuable. Crystal announced that they will automatically whitelist some companies' ads to be shown, and will charge others to have their ads shown.
Regardless of how these apps decide to show ads, the impact of ad blocking is sure to send ripples across the online industry.
Read more at the Wall Street Journal.
Facebook can now show 360-degree video in your News Feed
Facebook just launched the future of video, as you can now experience 360-degree video in your News Feed right alongside pictures of your friends' babies.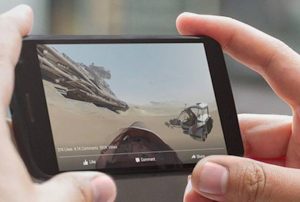 Facebook debuted this feature with an interactive video clip of Star Wars: The Force Awakens, where you can tilt your smartphone or use your computer's mouse to pan the screen to view spaceships flying over sand dunes from different angles.
The company has formed partnerships with GoPro, Discovery, NBC, and others to create 360-degree content for the platform.
The social network purchased virtual reality startup Oculus last year for $2 billion, so it's clear that Facebook is betting on this kind of immersive media as the future of content.
App Store infected by malicious code from China
Apple's App Store has been successfully hacked for the first time, as almost 40 apps on the Chinese version of the app marketplace were found to contain malicious code that potentially stole user information.
The infected apps included versions of extremely popular apps like WeChat, ride-hailing app Didi Kuaidi, and Chinese versions of Angry Birds, and thus may have been downloaded by hundreds of millions of iPhone and iPad users.
The apps were infected by a counterfeit version of Xcode, which is the software program developers use to build iOS apps. Xcode Ghost secretly included malicious code with normal functioning code that caused apps to report a variety of device and user information to a central server.
Apple was able to pull the infected apps from the Chinese app store, but the company has some explaining to do about how these apps snuck through its security checks.
Blackberry to launch Android phone
Blackberry confirmed that they will ship an Android phone, called Priv, later this year.
Of course, the phone will have a sliding physical keyboard, because Blackberry loves keyboards.
The Priv will merge the security of Blackberry products with the app ecosystem of Android for what the company hopes will be a killer combination.
The company plans on updating its Blackberry 10 operating system early next year, but with the launch of the Android phone, the OS's future is unclear.
What do you think of these stories? Have you read other interesting mobile and technology stories this week that are worth mentioning? Feel free to add your thoughts to the comments.
Like this post? Then please share it below and follow us on Twitter – @thorntech and @mikewchan – for future updates.
Photos courtesy of Sears and Facebook.