Happy New Year!
Welcome the first installment of "The Week in Tech" in 2016, where we recap some of the most interesting technology and mobile stories from the past week.
This week we talk about the shuttering of Yahoo Screen, longer tweets, Activision's purchase of Major League Gaming, and a round up of what's happening at the Consumer Electronics Show.
Yahoo shuts down video portal Screen
Pundits have always wondered whether Yahoo was trying to be a tech or media company. I think we're closer to the answer now.
Yahoo has shuttered Yahoo Screen, its on-demand video portal that hosted live and exclusive TV and video content. Visitors to the Yahoo Screen website will be redirected to Yahoo.com, and its Android and iOS apps are no longer available.
Yahoo Screen hosted the first-ever, online-only live NFL broadcast, archived clips of Saturday Night Live, and a number of "original" series, including the sixth season of Community.
It seems as though those original series caused the downfall of Screen. Yahoo executives cited the company's three TV series projects as big losers, as they lost a combined $42 million. The NFL broadcast cost the company $10 million in rights fees.
The company's video content has been spread across various Yahoo properties.
Long tweets are coming to Twitter soon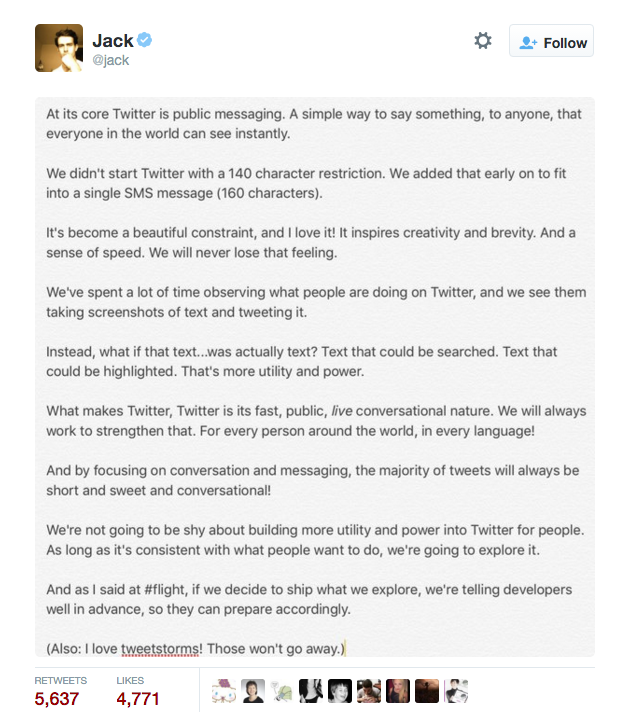 Twitter CEO Jack Dorsey posted a tweet that may foreshadow the future of Twitter.
The company is working on a new feature that will allow users to tweet messages up to 10,000 characters.
Dorsey says the company has noticed users have been taking screenshots of long text excerpts and posting those images on Twitter to circumvent the 140-character limit. Now he wants to make it easier for those users to post longer tweets.
The company is experimenting with a design that only shows the first 140-characters of the tweet with a call to action to show more of the content.
One of the great things about Twitter is that it forces you to be brief and get your point across concisely. This brevity obviously goes out the window with the new feature.
The feature is expected to roll out at the end of Q1.
Major League Gaming acquired by Activision
As nerdy or weird you might think watching others play video games is, e-sports is big and about to get bigger.
Major League Gaming, one of the earliest movers in the e-sports realm and organizer of huge gaming competitions, has been acquired by Activision Blizzard for a reported $46 million.
Activision will continue to organize and broadcast MLG's live events as they aim to bring e-sports to the mainstream and become the "ESPN of e-sports."
Activision also hopes to leverage this acquisition to develop its own e-sports games to compete with the likes of EA, Valve, and other gaming giants.
Consumer Electronics Show kicks off
The gadget fest that is the Consumer Electronics Show kicked off this week in Las Vegas and there was plenty of awesome technology to go around.
Robots roamed all over the show floor, but many had no real utility.
Virtual reality is also a huge theme this year, and attendees could get a glimpse into the future. Facebook-owned Oculus announced that they'll be selling their much-hyped Rift headseats for $599 when it's commercially available in April.
Self-driving cars continues to be a big theme, as car manufacturers such as Ford, Toyota, GM and others pimp their rides with software that will help alleviate the need for drivers.
You can check out more at this nice CES roundup by Yahoo Tech.
What do you think of these stories? Have you read other interesting mobile and technology stories this week that are worth mentioning? Feel free to add your thoughts to the comments.
Like this post? Then please share it and follow us on Twitter – @thorntech – for future updates.